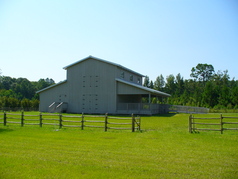 Upcoming Events
No events are currently scheduled.
Camp Milton Historic Preserve / Jacksonville-Baldwin Rail Trail Buffer
---
The Jacksonville-Baldwin Rail Trail Buffer provides over 8 miles of densely canopied spur trails off the 14.5-mile paved Rail Trail through 950 acres of buffer properties. The buffer trails are suitable for hiking, biking and equestrian. The buffer properties consist of upland hardwood forest, upland pine forest, seepage slope, basin swamp, and wet flatwoods providing habitat for the eastern indigo snake, the gopher tortoise, and several listed wading birds.

A midway point along the Rail Trail is the Camp Milton Historic Preserve access with trailhead. Trailhead facilities off the old railway trail include a restroom and picnic tables. A spur trail at this location also provides access to the Camp Milton historic site and preserve which encompasses 200 acres of the overall buffer property. The Camp Milton Historic Preserve is thought to have been the largest Confederate encampment in Florida in 1864, housing several thousand infantry, cavalry and several hundred field pieces. In 1864 the Union Army seized Camp Milton after several Confederate - Union encounters at the encampment. Civil war era earthworks remain on the site and replica woodworks have been erected for interpretation. The City hosts "The Road to Olustee" living history weekend between January-February annually featuring reenactments of skirmishes, raids and civilian town life.
Amenities
---
Community Center
Park Benches
Paved Hiking / Walking Trails
Restrooms
Tables
Water Fountains
Florida Communities Trust is not responsible for events that are rescheduled or canceled at Florida Communities Trust-funded parks.