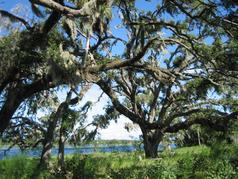 Upcoming Events
No events are currently scheduled.
Lake Harney Wilderness Area aka St. Johns Historic Property
---
The Lake Harney Wilderness Area (LHWA) is an approximately 300 acres property that is located along the St. Johns River at the northwest shore of Lake Harney. This site is home to an historic crossing of the Florida East Coast Railway, Native American shell middens, several bald eagle nests, oak hammocks and mixed hardwood swamps. This site also contains extensive floodplain marshes associated with Lake Harney which serve as important feeding grounds for wading birds and as a natural filter improving water quality.
The trail system of the LHWA consists of the Flagler Trail which bisects the site from the Trailhead northeast to the St. Johns River and two loop trails. The River Loop, blazed in yellow, is located at the northern end of the Flagler Trail traversing oak hammocks and mixed pine oak forests. This loop is approximately 0.6 miles long and provides several scenic views of the St. Johns River. The Floodplain Loop, approximately one mile long, is located at the southern end of the Trailhead and is blazed in orange. This trail is seasonally flooded, but provides extensive views of the Lake Harney Floodplain and a great opportunity for bird watching and wildlife viewing.
Amenities
---
Biking Trails
Kayak/Canoe Launch
Trails
Unpaved Hiking/Walking Trails
Wildlife Observation Areas
Florida Communities Trust is not responsible for events that are rescheduled or canceled at Florida Communities Trust-funded parks.