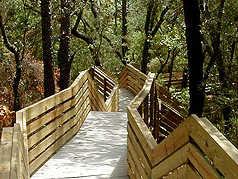 Scenic Hwy. and Summit Blvd.
Pensacola, FL 32503
Upcoming Events
No events are currently scheduled.
Bay Bluffs Preserve
---
Bay Bluffs Park is located on Scenic Highway at Summit Boulevard where those wanting a nice walk can visit along the historic bluffs overlooking Escambia Bay that were first seen by a Spanish explorer in the mid-1500's. A century later, another Spaniard named them Barrancas Coloradas. The park sits on the red, eroded bluffs that descend 85 feet to Escambia Bay. Bluffs of this height are not found anywhere else along the Florida coast.The boardwalks descend from the north or south parking lots to the connecting link of boardwalk that runs parallel to Escambia Bay. The park is open from 6 a.m. until sundown daily.
Amenities
---
Comfort Areas
Park Benches
Trails
Unpaved Hiking/Walking Trails
Florida Communities Trust is not responsible for events that are rescheduled or canceled at Florida Communities Trust-funded parks.